'Wonder Woman': Is It Worth the High?
Lisa Rough
June 7, 2017
(Warner Bros.)
Welcome to "Is It Worth the High?", where our writers see newly released movies, listen to the latest album drops, and try other experiences while high to determine whether they're worth your time, money, and most importantly, your cannabis buzz. This week, Lisa Rough takes on
Wonder Woman
to find out if it lives up to the reviews.
---
Products Enjoyed Pre-Movie: Swift Sour Drops (10mg)
High Experienced (1-10 scale): 6
Going into this film, I'd heard various friends review Wonder Woman, ranging from "Amazing!" to "Meh." Thus, I tried to keep my expectations somewhere in between. I popped two Swift Sour Drops at 5mg of THC apiece during the opening credits, knowing that the movie clocked in at two-and-a-half hours, and waited to be wowed.
I didn't need to wait too long. The paradisaical island of Themyscira is home to the fiercest group of badass Amazon women you've ever seen, including Robin Wright as General Antiope, who goes against her sister Queen Hippolyta's wishes to begin training young Diana to be the strongest warrior of them all.
Robin Wright is in fine form here, and when the first men crash through the barrier into Themyscira, we get a chance to see her in action. Antiope leads her ferocious Amazon warriors into battle on the beach, and it's absolutely breathtaking to watch the cast of women (who are legitimately trained athletes and professional fighters) performing flips and twists with stunning grace and athleticism.
Seriously, though, can we get a Robin Wright-led action movie? I'd watch the hell out of that.
Gal Gadot plays the eponymous Wonder Woman, also known as Diana, who follows charmingly generic handsome-white-actor-named-Chris into the world he inhabits with her sword and shield in tow. Gadot is a former member of the Israel Defense Force and it's hard not to be awed by her strength and vigor. Her acting skills are a bit lackluster, but she makes up for it by turning up the heat during action scenes.
Chris Pine plays Steve, the pilot who crash-lands in Themyscira, and when he informs Diana about the ravages of World War I, she knows she must use her superpowers to fight Ares, the God of War, and restore peace to the world.
The film is surprisingly funny at times. Diana reverts her female gaze right back at Steve, having never encountered a man before, and informs him that the teachings of Themyscira came to the conclusion that "men are essential for procreation, but for pleasure, unnecessary." I let out an audible gigglesnort in the theater at that line.
The film, like many superhero movies, takes its time getting to the action, but once it does, it does not disappoint.
After being told time and time again by the men of this world, "you can't do this, you can't do that," Diana finally stops listening. She steps out of the trenches and into No Man's Land, deflecting bullets and confronting the German forces in a scene that should go down in history as an iconic action sequence.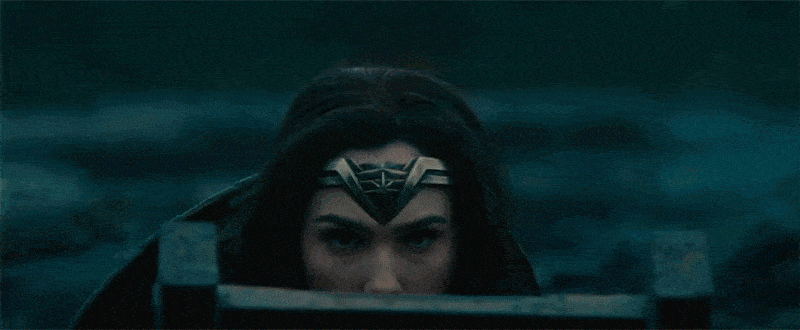 She punches and smashes and flies through the air, taking on the German army and saving an entire village, while her bumbling band of male cohorts scurry behind her picking up the pieces.
The plot gets a bit convoluted after this, and there are disguises and betrayals and mistaken identities and the whole thing gets a bit silly and contrived, but let's be real: you have to suspend your disbelief to fully embrace a superhero movie, and Wonder Woman is no exception.
The movie pulls a Lord of the Rings and has about five endings, but the climax of the film is when we see Diana truly become Wonder Woman. She soars, she glows, she explodes, and the final action sequence is visual eye candy to behold. It keeps you entranced throughout and whets your appetite for a sequel (and rumor has it, one is already in the works).
Key Takeaways:
The action sequences are glorious, but steeped in too many unnecessary slow-mo shots
Gal Gadot is a decent action star, but could stand to take a few acting lessons
It's a little cheesy, but who doesn't love a little cheese with their superhero movie?
Is It Worth the High? Absolutely. There are those who might argue that Wonder Woman is only for women, but I beg to differ. I saw plenty of men taking up seats in the theater, and they seemed to be just as riveted by the action sequences as anyone. Adding cannabis to the mix only enhances this movie-going experience and made two-and-a-half hours fly by. Do yourself a favor and grab some tickets and an edible for this blockbuster because it is well worth the high and, IMO, worth seeing on the big screen.
Related Reads